We come to you.  It's as simple as that.
   No more hooking up the trailer, coaxing the horse in, and then weaving through traffic  – or worse yet, sitting in traffic burning fuel – towing 20 feet of steel behind you.    No more trying to figure out how to pull in so that you don't have to back out.    Or maybe you don't have a trailer – no more having to beg, borrow, or steal to get your horse to the vet.
No more digging about the shed, storage room, attic, or basement looking for the dreaded dog or cat kennel.   Then when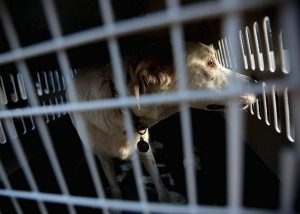 that's located then there is the issue of actually finding the pet that has taken off for the hills once they caught sight of the kennel.   Of course, just because you've located your feisty feline does not mean that they will submissively waltz into the small plastic jail cell.  No sir.  Now you've really got a fight on your hands to (gently of course) shove the unwilling patient into the kennel for the drive which will inevitably include a lovely sonnet the whole way – or worse Fido leaves you a "present" that ends up covering the inside of the kennel.
Still sound like a good idea?  How about this:  Sell the kennel (or don't buy in the first place) and put the money toward the small about extra that it takes to have Mobile Veterinary Service come to you.
Your pet will thank you and so will your sanity.