Normal Service Area
Service area is divided into four (4) zones. Normal rates apply on days in which other calls are already being made in those areas.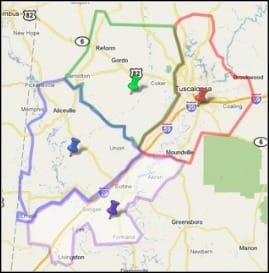 Rates for trip fees are determined by the distance from the home area (center of the map) and if the service call is being made on a day in which other calls are also performed in the same area.
Service calls range from $40 and up. Distances greater than 35 miles will be charged by the mile. Please call for a quote.
If possible, it will save you money to call ahead and schedule your appointment on a day in which service is being provided in your area.    Another way to save is to do a "Neighbor Referral".
Click on the map for a Google interactive map
Cities covered in our Service Area:
City
Zip Code
City
Zip Code
City
Zip Code
Abernant
35440
Duncanville
35456
Kellerman
36301
Romulus
35456
Aliceville
35442
Echola
35457
Knoxville
35469
Samantha
35482
Brookwood
35444
Elrod
35458
Lake View
35111
Boligee
35443
Emelle
35459
Livingston
35470
Tuscaloosa
35401, 35405, 35406, 35407, 35402, 35403, 35404, 35485, 35486, 35487
Buhl
35446
Ethelsville
35461
Mantua
35462
Union
35462
Carrolton
35447
Eutaw
35462
Clinton
35448
Forkland
36740
Moundville
35474
Vance
35490
Coaling
35449, 35453
Fosters
35463
McCalla
35111
West Greene
35462
Coker
35452
Gainsville
35464
Memphis
35442
York
36925
Cuba
36907
Gordo
35466
Northport
35473, 35475, 35476
 Outside the Service Area
Calls ARE AVAILABLE outside the normal service area, but are only made on an "as scheduled" basis and incur a per mile fee based on the distance from the home area (center of map).
Call 205.390.3423 or email for availability.