The wave of the future is now here: digital radiology service.
Mobile Veterinary Service is pleased to announce the addition of portable digital radiology service for our clients.
How it works:
In the past if you wanted to take a radiograph (commonly called an x-ray) it required several things: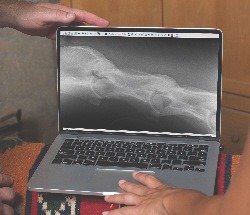 A large immovable machine
A darkroom to develop light sensitive film
A fluid based developing system (tanks or processor)
Film, cassettes, and various other paraphernalia.
Today with current digital technology all you need is a small portable generator, a radiation sensing plate,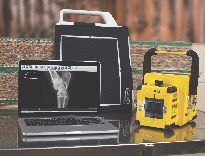 and a laptop computer – and some systems are even using tablets.
With the new lightweight battery powered and 110v systems, there is no longer a reason to trailer up your lame horse in order to find out what is wrong.   Same goes for your limping Great Dane.   The system can come to you and you can have the results then and there.
So why we don't need the large bulky x-ray machines anymore?  Because digital is much more sensitive so that less radiation is required.
But the biggest improvement that digital has brought to radiology is the improved image quality.  The example to the right is of a human pelvis.  You can see that the digital image  (A) on the top shows much more detail than the old film image (B) on the bottom.
The contrast is clear.   Digital radiology produces images that show incredible detail that helps us see problems with ease and accuracy.
What this means for you:
Portable digital radiology means that you can have the best radiology services at your convenience.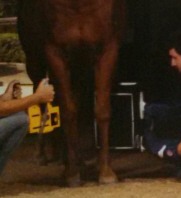 Whether you have a horse, a dog, or even a cat, Mobile Veterinary Service can come to you and your animal and immediately acquire the images necessary for a prompt and accurate diagnosis.
Maybe you have already taken your animal to another veterinarian and it even had surgery?
If you call us, we can help with recheck radiographs so that you don't have to take the recuperating animal – cast and all – back for another painful car or truck ride to the clinic.
We'll even email your regular vet a copy of the radiographs for free.
How to have us come radiograph your animal:
This is the best and most simple part – you can request and appointment right now and we will schedule you today!